Listen to the Vines – Take Time to Breathe
Kristin Watts
Marcello Marchesini: Wines from the Lake
Winemakers often emphasize the importance of gentle breezes that provide a respiratory outlet for vines, allowing them to "breathe" during their growing cycle. When I arrived at the vineyard sites of the Marchesini family in the Veneto on a recent trip with our Italian import partner Enotec, Inc. I finally understood exactly what they meant.
The parallels of our struggles, joys, and growing processes as we go through life and those experienced by vines with the threats and blessings of nature, the growing cycle and need for patience as a wine comes into its own have always been poignant for me.  After 6 days traversing through the Italian wine regions of Piedmont, Tuscany, Le Marche and Alto Adige, our final stop was with the Marchesini family in Bardolino, a region due West of Valpolicella in the Veneto that features vineyards that overlook the crystal clear waters of Lake Garda.  We were tired; we were sweaty; our patience was getting a workout. And then Giorgia greeted us as we pulled up the dirt road to the winery, her face beaming despite the heat, thrilled to show her U.S. customers the winemaking practices she has been learning from her father, Marcello. The winery tour was quick (they operate on a very small scale) and Erika (Giorgia's older sister, responsible for Export and Marcello (their father and 2nd generation owner) were awaiting us at their second site. It was there that I walked towards the vineyards and felt the gentle breeze coming off of the Lake, bringing instant relief and a sense of calming energy from the softly swaying leaves on the vines; they were happy as well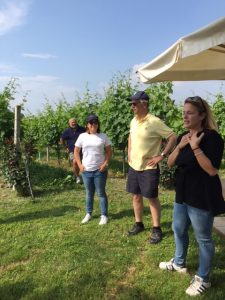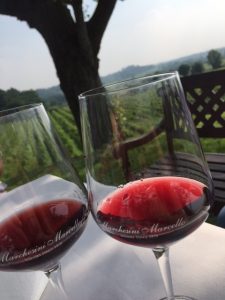 Erika points in the direction of where we would normally see the glistening waters of Lake Garda that today are hidden by the fog and explains the importance of soil (sandier soils at higher elevation, clay in the valleys) as well as the unique exposition of their 3 vineyards at this site that produce Corvina, Rondinella, and Molinara. Altogether, they farm 4 vineyards that total 10 hectares and everything is done by hand by family members. While the family has had the vineyards since the early 1900's, it wasn't until 1970 that they built a winery and 1982 that Marcello turned it into a business, in hopes of having something to pass down to his daughters. When you see the way he looks at them as they tell us their family's story, you can feel the pride he holds for them – and for his land as he quietly walks towards a row of vines to pick a few leaves off for the developing grapes to have more exposure to the breeze. He knows they need to breathe to eventually get them to the right place to produce the light-bodied, fresh and lovely red and rose wines that we enjoyed that afternoon and are the perfect pairings for Summer days at the lake or when you just need to sit and breathe in to get ready for what's next.
The Marchesini family is honest, humble and proud of what their land brings them.  In turn, they emit an energy that parallels the wines they produce: Bardolino, a perfect chillable, light-bodied red and Chiaretto (a DOC subzone that only produces Rose) that is quaffable, fun and balanced. We thank them for all they do.