Aurelien Chatagnier: From Rising Star to Star Risen
admin
Northern Rhone's "Underdog" Continues to Make Waves
We were late….very late, as we pulled into a semblance of a driveway outside of Aurelien's home.  Despite this, we were greeted with a calm, collected demeanor and a gentle heads up that "I just have to go pick up my kids in an hour." This is the kind of guy Aurelien is: humble, devoted, and quiet – both in his personality and the way he continues to rise on high levels of admiration and demand of his wines of equal status.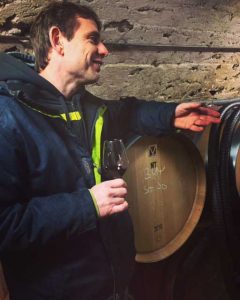 That was in January 2017, when I first had the pleasure of meeting Aurelien in at his small Domaine. What he has done since it awe-inspiring.
The Background:
In September 2016, I received an e-mail from Josh at Paris Wine Co informing me that a small allocation of Chatagnier St. Joseph and Condrieu had been released; would we like to have it? Without having tasted the wine and simply knowing the story and Josh's notes, my response was a resounding "Yes." Our first vintage on the St. Joseph Rouge was 2014, and the St. Joseph Blanc/Condrieu 2015…they were swallowed up in a matter of weeks as our wine community began to understand what these wines – and this winemaker were capable of.
As is the case with many "rising stars" in winemaking, Aurelien started from humble beginnings. He did not grow up in a winemaking family and had no connection to vineyards until, as a teenager, he started working in the vines at Domaine Jamet. You might say it was here that Aurelien caught the bug, and so in his early 20's went to study under another N. Rhone icon, Francois Villard. Villard saw Chatagnier's drive; his effortless connection to the vines; and a rare skill that prompted him to go out on his own.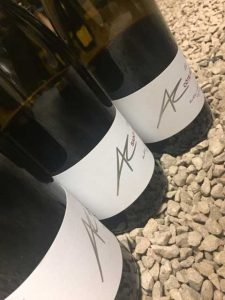 Starting with under a hectare of rented vineyards, Aurelien has been watched by his neighbors; wine writers; and was discovered by our very own Josh Adler, who has given us this great opportunity to watch him and his wines grow and develop to where he is today. Just prior to Aurelien's visit to NYC for Reboule du Rhone (to which only a handful of winemakers are invited), I received this note:
In January 2019, Aurélien Chatagnier will bottle his 15th vintage of red wine. For the past decade and a half, Aurélien has invested his time, effort, and savings into creating his domaine from scratch, terracing and planting vineyards, and bringing straggling old vineyards back to life. His unique style of ethereal, elegant winemaking is present in every bottle.  – Josh Adler
Ethereal and elegant are two words that come to mind when I think about this man, which is channeled into his wines of purity and distinction. I am thrilled to share the 2016 reds and 2017 whites with you and to introduce (a very small amount) of his Cornas and a new cuvee "Zelee."